Hello & welcome to Mallow Catholic Parish website. We are delighted you have taken the time to join us here. Our beautiful parish is situated at the centre of Munster in County Cork, Ireland and we are fortunate indeed to be served by a dedicated team of Priests and laity. We have endeavoured to include as much as possible into this site to aid you with your parish life and spiritual journey. But if you think we are missing anything, feel free to send us an email on parishmallow@gmail.com. Remember to spread the word of this site to your loved ones and colleagues, home and abroad with a special invite to join us for any of our Masses or ceremonies via our live webcam feed from St. Mary's Church on Mallow's Main Street. God's Blessing to You All.

THIS WEEK'S PARISH NEWSLETTER IS NOW AVAILABLE FOR DOWNLOAD - CLICK ON NEWSLETTER LINK ON THE MENU ABOVE


When you come to Mass, please continue sanitising your hands, wearing a mask and receiving Holy Communion in the hand. We ask you not to congregate at the back of the church for everybody's safety.

Adoration Chapel - 10.30 a.m.- 6 p.m., Monday to Saturday in St. Mary's Church. Entry from the church only. For the safety of everybody, only 6 people will be allowed in the Adoration Chapel.
Confessions:
St. Mary's - Saturday after 10 a.m. Mass.
Church of the Resurrection - Friday after 9.15 a.m. Mass and from 5-6 p.m.

First Friday Mass - 7th October St. Mary's Church at 7.30 p.m.

Day for Life is celebrated on this Sunday 2nd October 2022 -
Day for Life Message - Caring for the Older Person.
Please see the newsletter which is available on this website.

Tea/Coffee after Mass, Monthly Event -
The Welcome Subcommittee of Mallow Parish Council invites everyone to join them for a cup of tea or coffee after 10 a.m. Mass every second Friday of the month (St. Mary's outer sacristy - door to the left of the altar).
Through sharing a cup of tea, biscuit and chat, we hope that encouragement and friendship may be shared in our community. Upcoming dates - 14th October, 11th November and 9th December.

Autumn Stations
We invite families who are willing to hold a Station Mass for their neighbourhood in their homes to contact the Parish Office on 022 20276
to arrange a date of your choice within the next week. Please consider holding a Station to keep this spiritual tradition alive with your neighbours.

Bethany Bereavement Service - Support for all types of bereavement and losses. Inquiries - 086 3918751.

Gathering of Voices:
All members of Choirs from the Cloyne Diocese are invited to the 'Big Sing' to remember and celebrate all deceased, past and present members of choirs - Killeagh Parish Church, Wednesday November 16th - 8 p.m. to 9p.m. Rehearsal at 7.30 p.m. Service will include two guest speakers. Contact Mary Pedder Daly - 086 1642730 if attending. All welcome.

Minister of the Word, St. Mary's Church - If you are willing to become a Minister of the Word at Saturday evening or Sunday morning Mass please contact Eoghan Kenny, 085 1704509.

Note to Readers St. Mary's / Church of the Resurrection -
A seat is reserved at the top left hand side of St. Mary's / Church of the Resurrection for the Designated Reader for the Masses on Sunday. There is a space there for the reader and for members of the family who are present at the Mass.
It would be appreciated if Readers would use that seat as it indicates there is a Reader for that Mass. In the event of somebody not being able to read at the last moment, it offers an opportunity, if there is another reader in the congregation, to facilitate the readings for that Mass by another reader. This would be deeply appreciated by the Celebrant of the Mass.

Welcome!
Renewal in faith
Mallow Parish welcomes you in faith, friendship and love
Parish details available in:
our Information Booklet, on www.mallowparish.ie
or from the Parish Centre at 27/28 Bank Place, Mallow.




PRIEST ON DUTY FOR THE COMING WEEK:

Fr. Andrew Carvill

SUNDAY MASSES

ST MARY'S

Saturday Vigil Mass at 6.30 pm

Sunday morning 8.30 am and 11 am

CHURCH OF THE RESURRECTION

Saturday Vigil Mass at 7.30 pm

Sunday morning 10 am and 12 noon

WEEKDAY MASSES IN MALLOW

ST MARY'S

10 am Monday to Saturday

CHURCH OF THE RESURRECTION

9.15 am Monday to Friday

THANK YOU FOR YOUR CONTINUED SUPPORT OF THE PARISH CLERGY

THE PARISH OFFICE IS OPEN MONDAY TO FRIDAY

9 - 10.00, 10.30 - 1.00, 2.00-5.00

TO BOOK MASSES FOR SUNDAYS AND WEEKDAYS - ESPECIALLY MONTHS' MIND MASSES AND ANNIVERSARIES - PLEASE PHONE :

Parish Office 022 20276

Collections

Thank you for your support of the parish at Sunday Masses


Methods

of Contributing Online and through your bank:

1.

On-line

It is now possible to give your contributions to church collections

on-line.

C

lick the DONATE button at the top of this page.

Click on: 1. Sunday Collection (recurring). Filling in here the amount you wish to donate every Sunday (recurring), giving your Envelope Number, together with your personal and bank account details will mean that the specified amount will be automatically deducted from your bank account in favour of Mallow Catholic Parish account every week. All data is safely encrypted. You will be notified every time money leaves your account. If you choose this method it will eliminate all anxieties about handling cash and handing in envelopes. There is a separate section to be filled in for the different collections held in the parish during the year including the offerings to the priests.

2.

A Standing

Order with your bank is another method of contributing.

Parish bank

details:

Bank of

Ireland, Bank Place, Mallow.

IBAN: IE62

BOFI 9028 8012 2513 68 BIC: BOFIIE2D

3.

Payment by

cheque to Mallow Catholic Church

4. Envelopes can be handed in to any of the priests' houses

Thank you for your continued support

8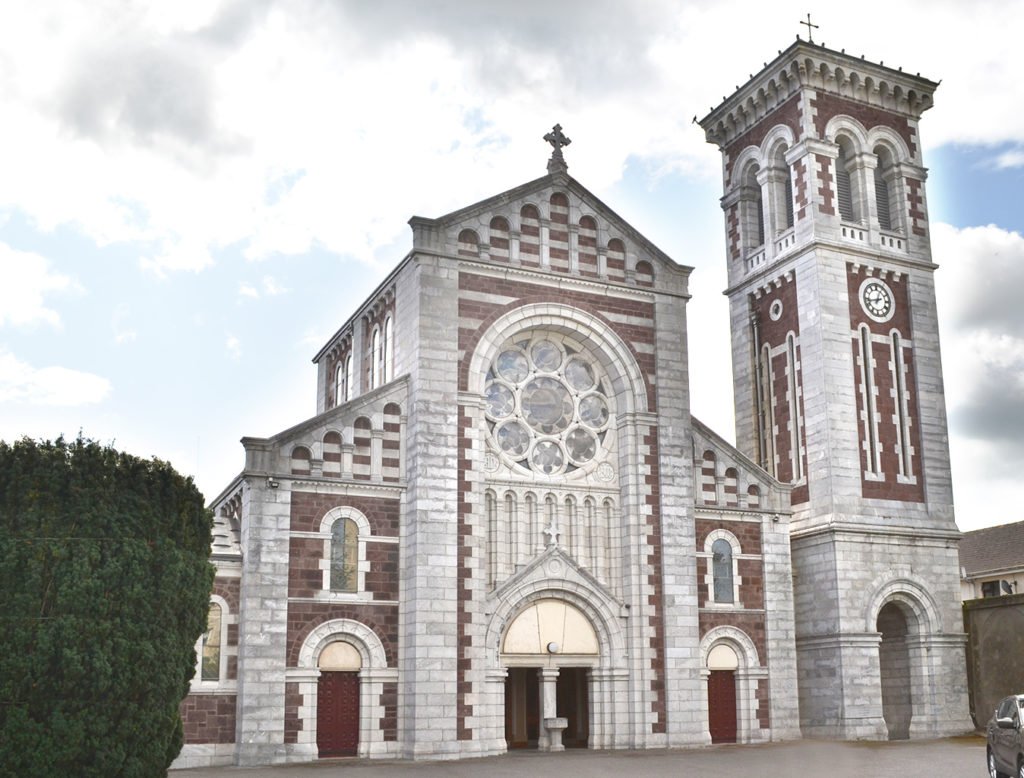 Church of the Resurrection