Hello & welcome to Mallow Catholic Parish website. We are delighted you have taken the time to join us here. Our beautiful parish is situated at the centre of Munster in County Cork, Ireland and we are fortunate indeed to be served by a dedicated team of Priests and laity. We have endeavoured to include as much as possible into this site to aid you with your parish life and spiritual journey. But if you think we are missing anything, feel free to send us an email on parishmallow@gmail.com. Remember to spread the word of this site to your loved ones and colleagues, home and abroad with a special invite to join us for any of our Masses or ceremonies via our live webcam feed from St. Mary's Church on Mallow's Main Street. God's Blessing to You All.

THIS WEEK'S PARISH NEWSLETTER IS NOW AVAILABLE FOR DOWNLOAD - CLICK ON NEWSLETTER LINK ON THE MENU ABOVE



When you come to Mass, please continue sanitising your hands, wearing a mask and receiving Holy Communion in the hand. We ask you not to congregate at the back of the church for everybody's safety.

Rosary for the month of May at Our Lady of Lourdes Grotto, Muddy Hill, daily at 7.30 p.m.

Please note: Mass on Saturday 21st and 28th May will be at 9.30 a.m. in St. Mary's Church.

Adoration Chapel - 10.30 a.m.- 6 p.m., Monday to Saturday in St. Mary's Church. Entry from the church only. For the safety of everybody, only 6 people will be allowed in the Adoration Chapel.

St. Aloysius Faith Camp for boys and girls, aged 5-14 years. A summer camp with a twist - develops confidence and character, to know and experience the love of God through sports, arts and crafts, music, dance, drama, prayer and catechesis. Cost €50 for first child, €30 per additional child from the same family - all happening in Mallow Community Youth Centre, Tues., 5th - 8th July, 9.30 a.m. - 3. p.m. Volunteers are also needed. For more information contact Bernadette, Mallow Parish Youth Ministry - 086 8031126. A great week's fun guaranteed.

TIME FOR A NEW CHALLENGE - ACCORD, Diocese of Cloyne, (Catholic Marriage Care Service, CLG, are recruiting volunteers to train in presenting Marriage Preparation courses, as part of a team. Benefits of this training include: the opportunity to work in a National Organisation, Certificate in Marriage Education (Accredited). If interested please contact Jean 025-31899, Monday to Friday 9.30 a.m.-1.p.m. on or before 23rd May, 2022.

ALONE - are currently looking for befriending volunteers in the area. The ALONE Support and Befriending service provides companionship and practical support for older people. Visit the website www.alone.ie for further details.

Open Morning - Adult Learning Centre - Q Centre, Quartertown, Mallow Thursday 19th May 10 a.m. to 1.p.m. with details of their classes available.

Dromantine Retreat and Conference Centre - Workshop, No Visible Scar:
Comfort for the Bereaved, Friday 20th - Sunday 22nd May. Workshop facilitator: Fr. Hugh Lagan, SMA. To book phone 048 3082 1964 or email admin@dromantineconference.com

Welcome!
Renewal in faith
Mallow Parish welcomes you in faith, friendship and love
Parish details available in:
our Information Booklet, on www.mallowparish.ie
or from the Parish Centre at 27/28 Bank Place, Mallow.

Diocesan Survey for the Synod - Invitation to all parishioners and others to complete the online questionnaire as part of the Synodal Process in the Diocese of Cloyne. This survey can be completed online by following the link from www.cloynediocese.ie. A hard copy of the questionnaire is now available from the Parish Office.

The Diocesan Pilgrimage to Lourdes is postponed this year due to the ongoing uncertainty with the global pandemic.



PRIEST ON DUTY FOR THE COMING WEEK:

Monsignor Anthony O'Brien

SUNDAY MASSES

ST MARY'S

Saturday Vigil Mass at 6.30 pm

Sunday morning 8.30 am and 11 am

CHURCH OF THE RESURRECTION

Saturday Vigil Mass at 7.30 pm

Sunday morning 10 am and 12 noon

WEEKDAY MASSES IN MALLOW

ST MARY'S

10 am Monday to Saturday

CHURCH OF THE RESURRECTION

9.15 am Monday to Friday

THANK YOU FOR YOUR CONTINUED SUPPORT OF THE PARISH CLERGY

THE PARISH OFFICE IS OPEN MONDAY TO FRIDAY

9 - 10.00, 10.30 - 1.00, 2.00-5.00

TO BOOK MASSES FOR SUNDAYS AND WEEKDAYS - ESPECIALLY MONTHS' MIND MASSES AND ANNIVERSARIES - PLEASE PHONE :

Parish Office 022 20276

Collections

Thank you for your support of the parish at Sunday Masses


Methods

of Contributing Online and through your bank:

1.

On-line

It is now possible to give your contributions to church collections

on-line.

C

lick the DONATE button at the top of this page.

Click on: 1. Sunday Collection (recurring). Filling in here the amount you wish to donate every Sunday (recurring), giving your Envelope Number, together with your personal and bank account details will mean that the specified amount will be automatically deducted from your bank account in favour of Mallow Catholic Parish account every week. All data is safely encrypted. You will be notified every time money leaves your account. If you choose this method it will eliminate all anxieties about handling cash and handing in envelopes. There is a separate section to be filled in for the different collections held in the parish during the year including the offerings to the priests.

2.

A Standing

Order with your bank is another method of contributing.

Parish bank

details:

Bank of

Ireland, Bank Place, Mallow.

IBAN: IE62

BOFI 9028 8012 2513 68 BIC: BOFIIE2D

3.

Payment by

cheque to Mallow Catholic Church

4. Envelopes can be handed in to any of the priests' houses

Thank you for your continued support

8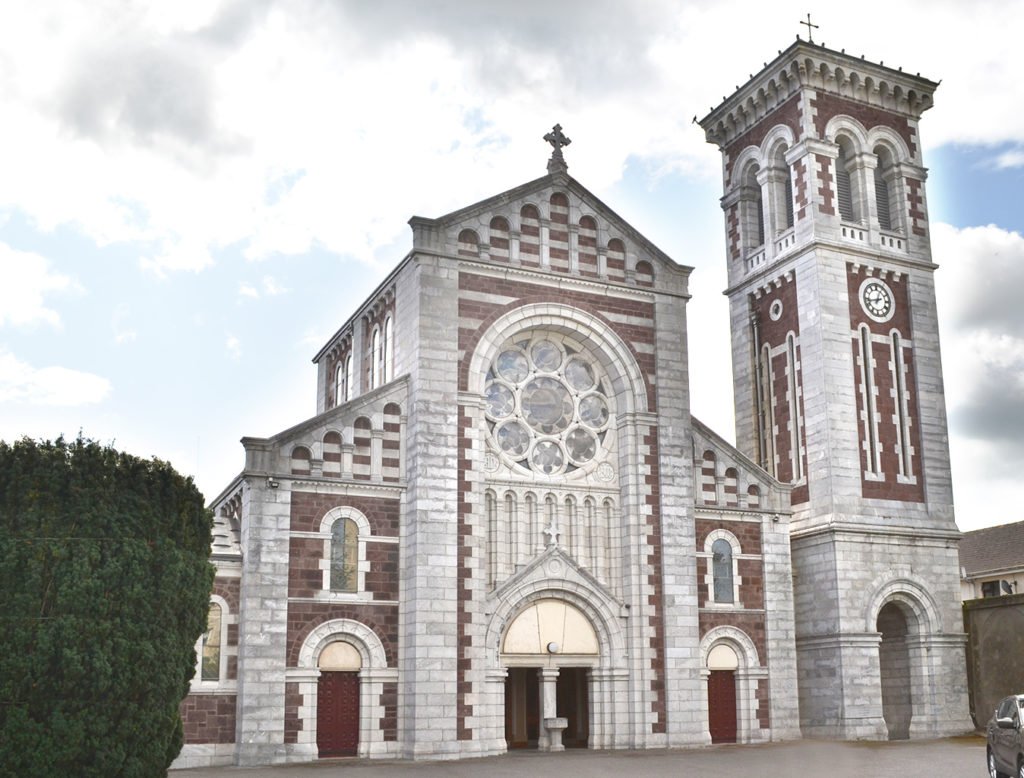 Church of the Resurrection